DRX
Submersible mixer.
Send your inquiry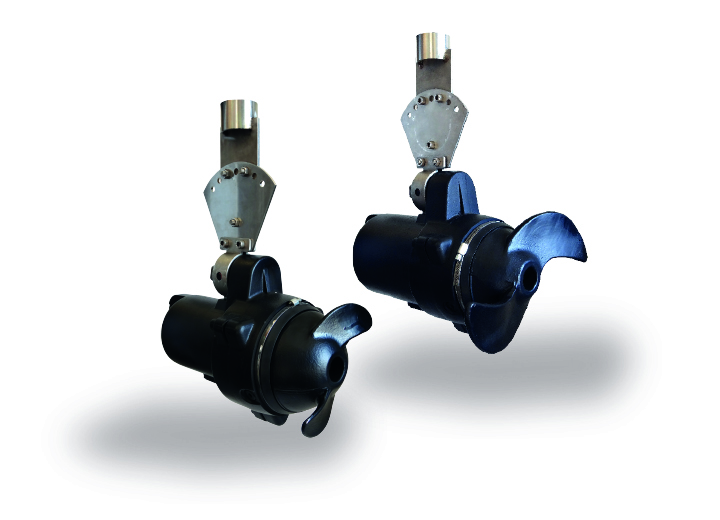 Use
The submersible mixers of the DRX line have a wide range of application including homogenizing process in sewage treatment plant, water treatment, industrial and zootechnical applications.
Construction features
Main components in cast iron EN GJL-250. One mechanical seal and one lip seal in oil bath guarantee a perfect functioning. Mounting brackets in stainless steel AISI 416.
Motors

Asynchronous 4 pole motor squirrel cage rotor type.
Thermal protection embedded in the winding to be connected to suitable control panel.
Motor insulation: class F 155°
Protection: IP 68
Voltage: 230V/400V ± 5%
Frequency: 50Hz ± 2%
Cooling of the motor
The cooling of the motor is ensured by the liquid where the mixer is submerged.
Limits of use
Max. permissible liquid temperature: 40°C with pump fully submerged
On request, special version to withstand liquid temperature up to 60°C with pump fully submerged, no S1 service
Max immersion depth: 20 mt.
Permissible Ph value: 6-10
Max solid contents in the liquid: 10kg/m3
Mixing capacity: 100-150 ml/g
Mixing degree: 2.5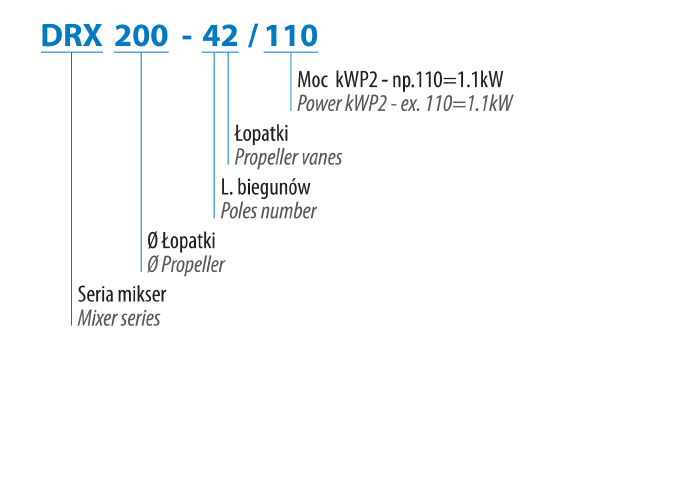 Flow range

List of components and materials
Cable gland
Stainless steel AISI 416
Motor casing
Cast iron GG25
Motor shaft
Stainless steel AISI420
Flange bearing support
Cast iron GG25
Oil chamber support bracket
Cast iron GG25
Mechanical Seal
Silicon carbide (SIC/SIC/Viton)
Oil plug
Stainless steel AISI 416
Seal leak detector (patented)

Technology and Features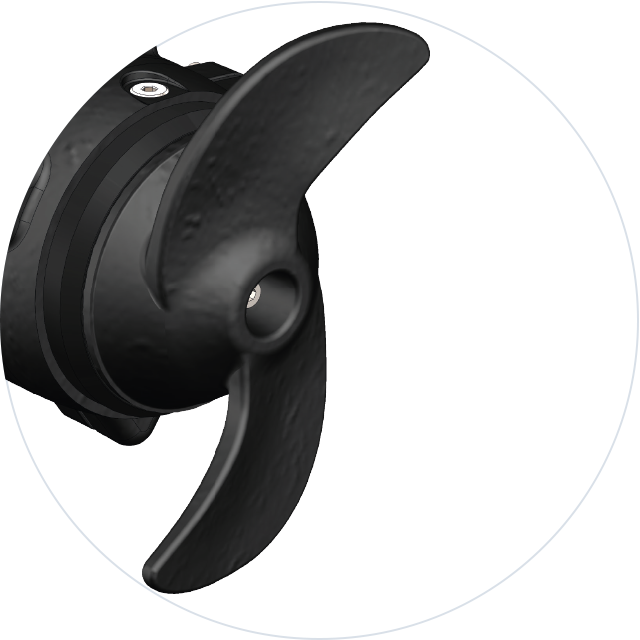 Propeller
2 blades propeller with inclination angle at 16°, designed to ensure the best efficiency and thrust.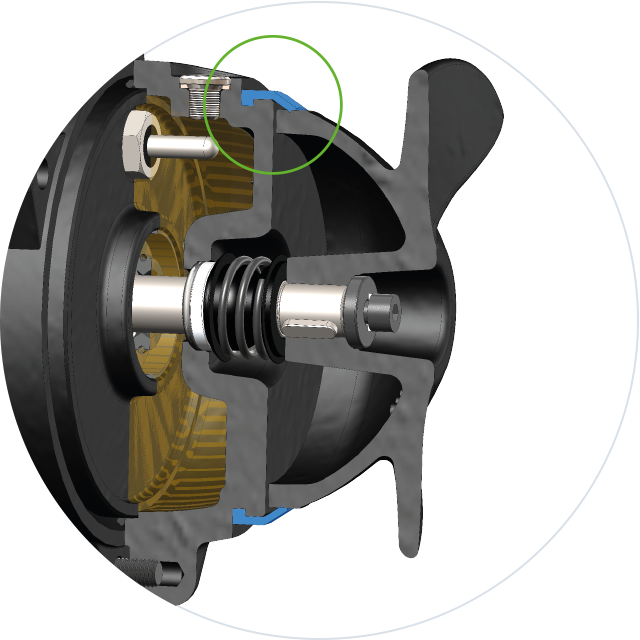 Deflector ring
The special deflector ring prevents fibrous material and solids from entering in contact with the mechanical seal thus avoiding blockage problems.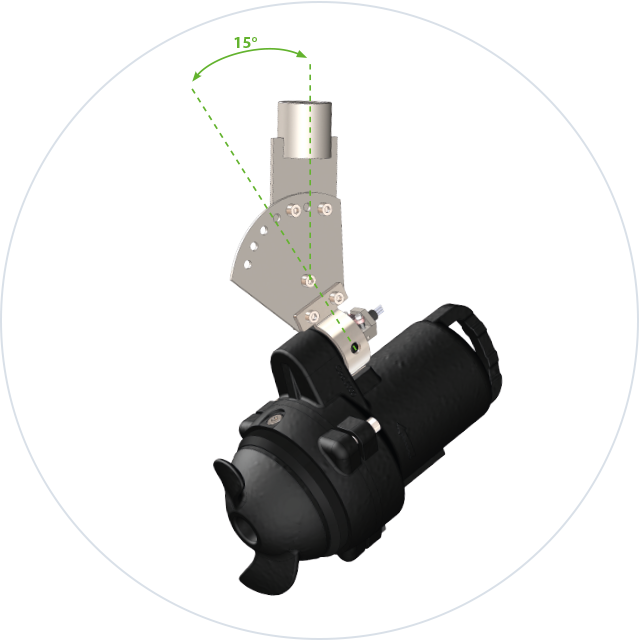 Mounting bracket
The fixing bracket has been conceived to ensure high flexibility in installation and use. Maximum admissible rotation +/-15°.

Versions
Configuration of installation - round basin and rectangular basin
Installation with guide rail
Main specifications
• Fixed and adjustable installation with mast
• Robust and reliable installation
• All components are made of stainless stee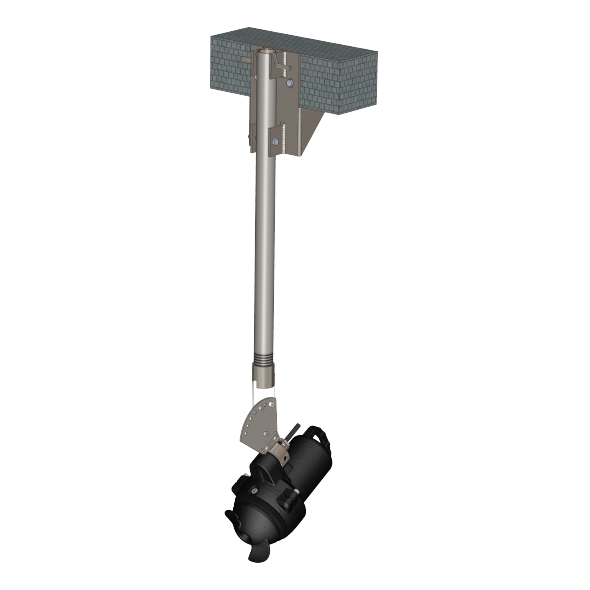 Handing installation
Main specifications
• Adjustable equipment with mast
• Quickly installation operation
• All components are made of stainless steel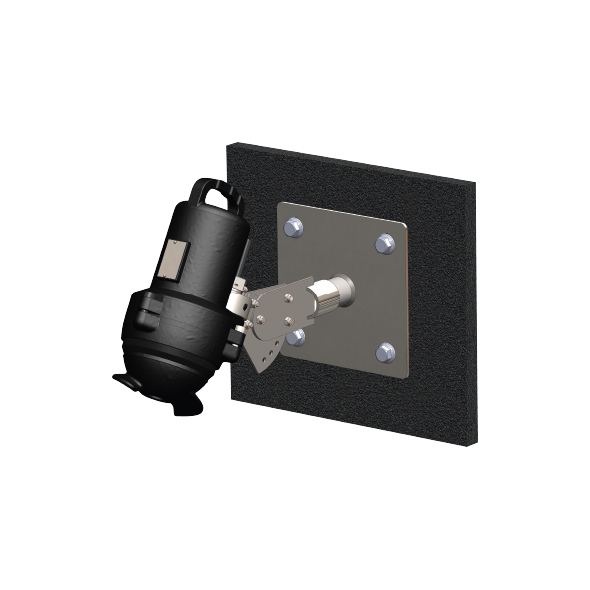 Wall/floor mounted
Main specifications
• Adjustable installation on vertical and horizontal surfaces
• Flexibly installation
• All component are made of stainless steel