Firma PHU DAMBAT oferuje przydomowe przepompownie ścieków i wód opadowych o szerokim zastosowaniu. Ścieki bytowe, odcieki, brudna woda, deszczówka itp. Docelową grupą odbiorców są klienci indywidualni, małe gminy i firmy. Przepompownie domowe wykonujemy w dwóch wersjach. PDM jedno- i dwupompowy z pompami opuszczanymi na prowadnicach i zawieszonymi na stopie sprzęgającej. PDA z pompami wolnostojącymi na dnie ze sztywno połączonymi przewodami. Na życzenie klienta możemy wykonać wersje specjalne według indywidualnych ustaleń.
What distinguishes PHU DAMBAT home pumping stations:
Tanks made of high-density polyethylene PEHD with internal diameters of Ø800mm and Ø1000mm and heights from H = 2.2 – 3m.

Discharge risers DN50 / PE63 made of materials resistant to the aggressive environment of sewage

,

Each pump has an individual wastewater ball non return valve (not mushroom-shape valve, flap or other … but the ball non return valve best for sewage containing faeces and solids)

,
On each discharge line, we install a cut-off valve (ball with full flow), which allows the pump to be removed for service or service of the check valve,
In the PDM version, as standard, we provide a Storz coupling with a 2 "fire cowl and a cut-off valve for emergency connection of a DN50 fire hose and e.g. flushing the discharge pipeline with high pressure,
A wide range of pumps used by us for various purposes:

with free passage under the impeller

30-50mm eg. DRENO Compatta, DRENO Alpha V,

with a radial grinding system

Kraken 1800 DF, IBO WES, DRENO GRIX,

with cutting impellers

IBO ZWE, IBO ZWQ, etc.
with a grinder disc such as KRAKEN 1800,
with single-channel impellers WQ Professional
for dirty water and grey sewage DRENO BIC, DRENO AM-AT, DRENO APX, WQ PRO, SWQ PRO,
high pressure pumps for sewage eg. UP60/80,

Control systems from the simplest, through a float control built into the pump, to advanced control systems for alternating operation of two pumps and signaling failures. systems regardless of single-phase 230V or three-phase 400V power supply.
Our home pumping stations come to the customer complete, assembled and ready to work. It is enough to lower (screw on) the pump and connect the power supply.
Differences in the construction of the sewage pumping stations in the PDM and PDA versions: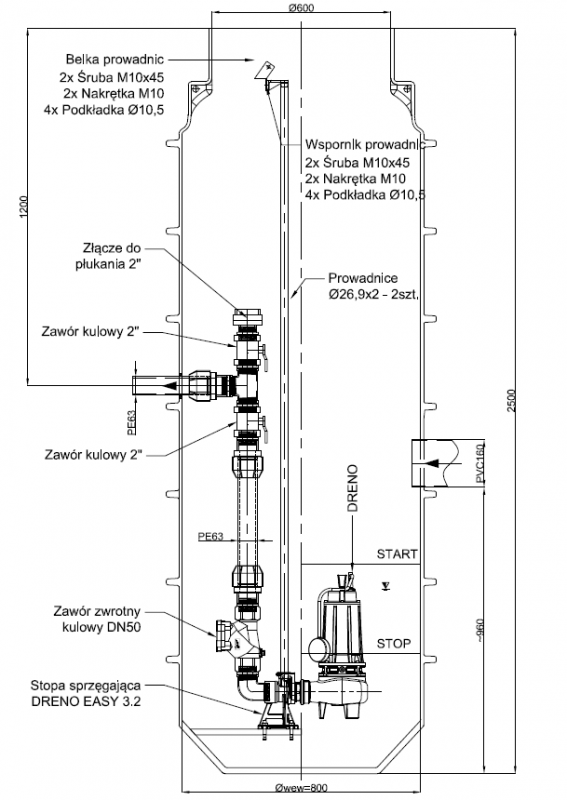 Pumping station type PDM
A professional solution for a household pumping station is taken from municipal network pumping stations. The pump with a bolted catch is lowered along two stainless steel pipe guides to the bottom of the pumping station, where it is coupled by its own weight on the coupling foot. It is not necessary to enter the tank to lower and install the pump. Precisely made castings and machined surfaces of the autocoupling and the catch perfectly adhere to each other, ensuring tightness and proper connection. In our PDM pumping stations, we only use systems with two guides, so that the pump does not rotate when lowering. The pump always hits the coupling elbow perfectly, even when the pumping station is completely flooded with sewage. Imagine that you took the pump out for cleaning or service and at that time a lot of sewage flowed in and you do not see where you have to place the pump? Not a problem with two guides, because the pump will sit properly on the coupling elbow anyway.
In a PDM household pumping station, the non-return ball valve always remains in the pumping station, so that waste water from the discharge line never returns to the tank. We always install the Storz coupling for flushing the pipeline on the discharge riser. Pipelines with small diameters and low flow can sometimes become overgrown with sediment and clog up with the sewage carried: sand, rags, handkerchiefs or other solids. Then it is enough to connect the hose from the slurry tanker or hydrant to the fire fighter's attachment and unscrew the shut-off valve in the pumping station. High pressure and flow can quickly disconnect the pipeline and restore its functionality.
At this moment the most popular type of our household pumpingstation PDM are: PDM8-22-1, PDM8-25-1 i PDM10-25-2, while 8 and 10 means diameter inside the tank Ø800 or Ø1000mm, 22 and 25 means hight of tanks 2,2 or 2,5m and number 1 or 2 means number of installed pumps.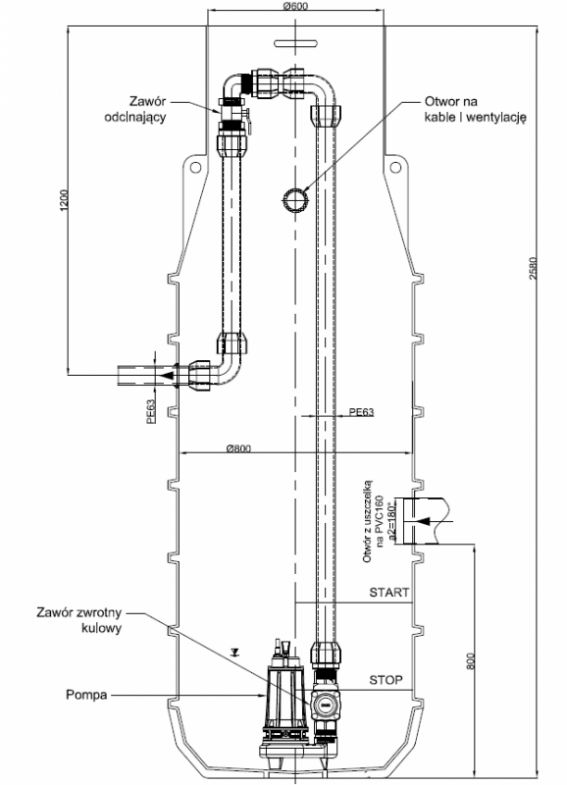 Pumping station type PDA
A version of a home pumping station with a simple and durable structure, enabling quick disassembly of the pump with a ball check valve. In the PDA pumping station, a shut-off valve is placed at the top of the tank to easily shut off the waste water return from the discharge line. Thanks to the quick coupler, we remove the entire discharge riser with the pump and non-return ball valve. It is not necessary to enter the pumping station to unscrew the pump or clean the ball check valve. The rigid pipeline allows the use of high-pressure sewage pumps of up to 40-80m of lifting height because there is no risk of the pump floating on the coupling elbow, as it may be in PDM pumping stations. All elements of the discharge pipeline are made of materials resistant to the aggressive sewage environment (PE pipelines, PE elbows, shut-off valve, stainless steel 304).
Typical dimensions of PDA pumping station tanks are: internal diameter Ø800 and height H = 2.2m, H = 2.5m and H = 2.7m, for tanks with internal diameter Ø1000 we use heights H = 2.5m and H = 3m. Other heights to be agreed.
Due to their simple structure, PDA pumping stations are an interesting alternative for customers looking for budget solutions, but meeting the requirements of a modern pumping station for individual use.
Home pumping stations control options:
Depending on the needs and preferences of customers, we offer pumps with different powers, power supply and control versions. Our offer includes several dozen types of pumps powered with 230V voltage on one phase and 400V on three phases. The pumps are switched on either by a built-in control float or by external control floats connected to special controllers. We offer M121/M131 controllers or professional SPP control cabinets with a complete security set and high functional capabilities, e.g. three floats: Dry Run, Start-Stop, Alarm. In the event of extreme conditions, acoustic and optical signaling is activated, drawing the user's attention to problems with the pumping station system.
Each pumping station of our company has a modular structure and in the event of damage to any of the elements, it is always possible to replace it with a new one.